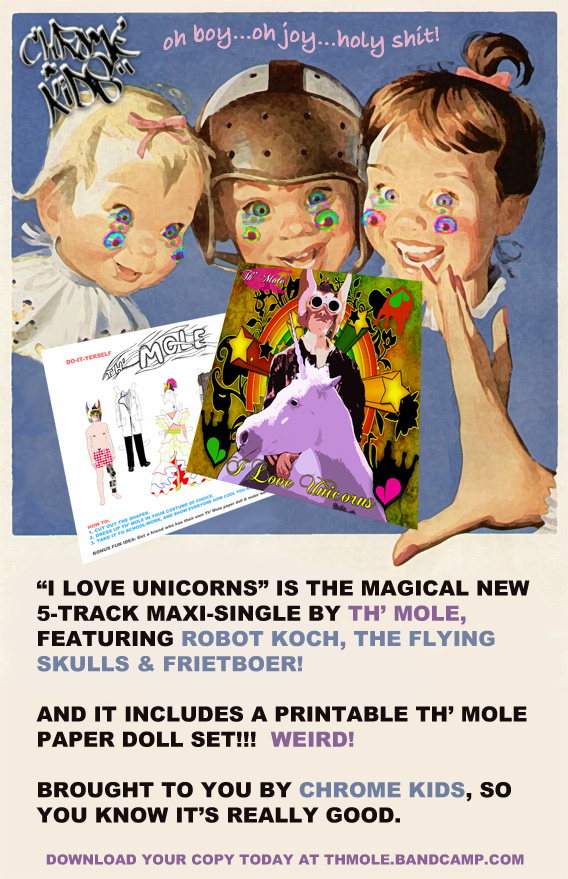 From Chrome Kids and the oddball MC who taught us 'How To Be Cool' last year, Th' Mole's 'I Love Unicorns' is an unlikely rap song withheart, guaranteed to make anyone crack at least a small smile.

Setting himself apart from the slew of 'hipster hop' Th' Mole is a truly unique individual, as he proves irrevocably with the b-side track 'Shocky Guy Go' which features Asian strings, symphonic arrangements and lyrics rapped in an imaginary language.

In addition to remixes of the title track by Robot Koch (Kitty Yo/K7), The Flying Skulls (1320/Daly City), and up-and-coming producer Frietboer, there is also a printable Th' Mole paper doll included in the download!

Pick up a copy from Bandcamp now.



Th' Mole: I Love Unicorns maxi-single - 01. I Love Unicorns (Robot Koch Remix) by magicalbass

Even Radio 1 music supremo and Bestival overlord had to agree that "This is immense". We believe the Robot Koch mix is due to be his tune of the day today, however he is knee deep in Bestival line up announcements (The Cure, Primal Scream, Brian Wilson, Magnetic Man, Crystal Castles, DJ Shadow, Grandmaster Flash, Norman Jay, LFO, Omar Souleyman, A Trak, Katy B, 65 Days Of Static and Pantha Du Prince so far... blimey!) so may have slipped by for today.