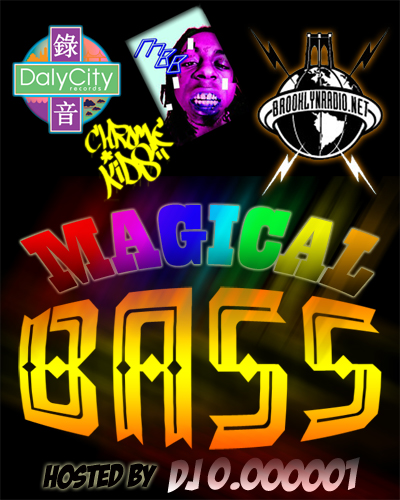 Courtesy of Daly City Records, Chrome Kids and Man Bites Blog, DJ 0.000001 (AKA Th' Mole) presents Magical Bass, on Brooklyn Radio, where the hardest-hitting, most futuristic, most bass-blurpingest beats in the universe wrangle with psychedelically tweaked vocals and freaked-out alien synths, all of which is compressed and fast-forwarded into a furious explosion of robo-rap lazer-blap glitch-core heaven! Featuring exclusive remixes and edits by grandblaster DJ 0.000001, and mini-mixes by special guests, Magical Bass is not just a radio show, but an original 45-minute long musical composition, scientifically designed to make you smarter, healthier and happier, and guaranteed to make even your mother move!
Always one to go the extra mile, DJ 0.000001 has set up a SoundCloud page (soundcloud.com/magicalbass) where listeners can download high quality MP3's of each episode (minus the voiceovers) as well as many of the individual tracks featured in each show!
Episode 1 is a special one-time-only hour-long episode chock-full of exclusives, featuring Das Racist, Mochipet, EPROM, The Flying Skulls, Spankrock, Ddamage, ill.gates, and many more. You can stream or download right now, along with a number of other cool shows, at BrooklynRadio.net, or if you prefer, you can access and subscribe to the show via RSS (podcast) or iTunes. (Links below.)
Episode #1 Tracklist:
01. Das Racist "Who's That? Broooown! (DJ 0.000001 Remix)"
02. Deceptikon ft. Mochipet "Master P On Chords & Coffee (DJ 0.000001 Remix)"
03. Yo! Majesty "Night Riders (DJ 0.000001 Edit)"
04. MaxNormal.tv "Angel Claw (DJ 0.000001 Edit)"
05. EPROM "Shoplifter (DJ 0.000001 Edit)"
06. DJ 0.000001 ft. R. Kelly & Jeremih "Earth Day Sex"
07. Larry Tee "Clap That Ass (DJ 0.000001 Edit)"
08. DJ 0.000001 "We All Fall Down (Instrumental)"
09. MC Cullah "Rocket Into The Future (DJ 0.000001 Remaster & Edit)"
10. The Flying Skulls vs. Spankrock "Club Killer (DJ 0.000001 Remix)"
11. Rokhausen "Chickenhed Dub (DJ 0.000001 Remix)"
12. Rokhausen "Cafeteria Sex (DJ 0.000001 Remix)"
13. Ddamage "Sign My Name ft. Tes (DJ 0.000001 Edit)"
14. DJ 0.000001 "Start Rapping Here"
15. Tech N9ne "Show Me A God (DJ 0.000001 Edit)"
16. Noah 23 "This A Way That A Way (DJ 0.000001 Extended Mix)"
17. Filastine "Hungry Ghosts (DJ 0.000001 Remix)"
18. Jamie Foxx "Straight To The Dance Floor (DJ 0.000001 Chipped Up Remix)"
19. ill.gates ft. Mochipet "Robot Dunk Juice (DJ 0.000001 Edit)"
20. Rainbow Arabia "Harlem Sunrise (DJ 0.0000001 Extended Edit)"
21. DJ Steve Porter ft. Kat Williams "Weed Remix (DJ 0.000001 Remaster & Edit)"
22. DJ 0.000001 ft. Oskar Ohlson "Magical Bass Theme"
Magical Bass on Brooklyn Radio: http://brooklynradio.net/magicalbass
Magical Bass on SoundCloud: http://soundcloud.com/magicalbass
Magical Bass/Daly City RSS feed (Blog + Podcasts): http://feeds.feedburner.com/DalyCityRecords
Magical Bass/Daly City iTunes feed: pcast://feeds.feedburner.com/DalyCityPodcast